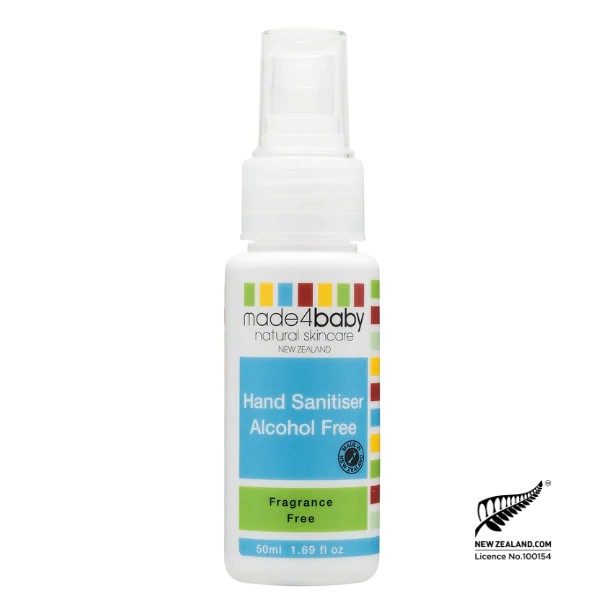 Hand Sanitiser
Made4Baby Code: SANITFF50
$7.99
NZD
Approx $5.08
USD
or 4 payments of $2.00 with
Learn More
Ideal for a quick sanitise after a nappy changes on the run, or keeping those kids hands free from bacteria and germs during cold & flu season.
Hand Washing is the most effective way of protecting yourself and your children against bugs, however it is not always possible when you are out and about. This is why you need Made4Baby Hand Sanitiser, (Alcohol Free) it is a tested and approved effective alternative.
Kills instantly 99.99% of bacteria & germs.

AND then acts as a barrier defending and protecting hands against bacteria & germs for a further hour (TGA tested).
Alcohol Free

Antibacterial
Fragrance Free
Suitable for sensitive skin
Easy to use spray formula
Made in New Zealand
The active ingredient kills instantly and works as a longer lasting antibacterial agent protecting hands and surfaces for a longer period of time.
Tested & Approved

Made4Baby Hand Sanitiser has been tested by Eurofin Australia using the Murine Hepatitis virus. This is one of only 2 tests approved by the Therapeutic Goods Association (TGA) Australia for claims of efficacy against bacteria & germs.
For more information see visit the official TGA information site.
Official Made4Baby Sanitiser Testing Report
Antibacterial Protection

Hands
Toys
Prams
Cots
Change Tables
Hard Surfaces
Ingredients
Water; Aloe Barbadensis Leaf Extract; Citrus Grandis (Grapefruit) Seed Extract; Phenoxyethanol; Benzalkonium Chloride; Ethylhexylglycerin