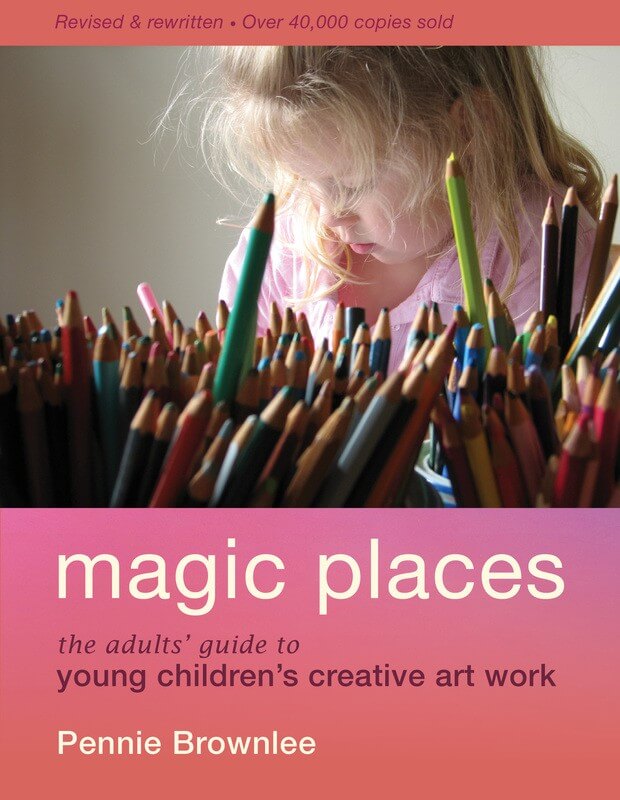 Magic Places Creative Art | Signed | NZ Made
Pennie Brownlee Code: PB02
$33.99
NZD
Approx $21.21
USD
or 4 payments of $8.50 with
Learn More
All children are born creative. Our task is to ensure they stay that way.
This little book, first published in 1983, has all the information and inspiration adults need to make sure that every child in their care retains their creativity. It addresses the question people have about what art activities are suitable for the child under three when children's consciousness is a world away from our own creative consciousness.
​
Guardians of children's creativity pave the way for children to become initiators. artists, innovators and inventors in the chosen fields - be that the science, education, engineering, the arts, technology... or parenting

Written for parents and teachers of children up to 11 years.

This book is setup in three parts:
- The first part covers the four stages of creativity with guidelines for adults to support each stage.
- Part two details the stages of creative development of children under seven,
- Part three gives practical tips on setting up an environment which is 'creativity heaven' for young children. 
​Illustrated throughout with photos and children's art work, this book is essential reading for all adults who believe that children's creativity is too precious to squander unwittingly. 

Soft cover, 120 pages, 210mm x 163mm
Published in 2016 by Good Egg Books, Thames, New Zealand

Signed by Pennie Brownlee!

About Pennie Brownlee
Pennie is the mother of one, grandmother of two, and she began her primary school teaching career way back in 1967.
Her early childhood experience began with motherhood, and it grew when their daughter Clare and her attending Thames-Parawai Playcentre in 1975.They both loved it so much and it was there Pennie had the time and space to observe what happens when children play and learn.

After five years of observing many children's creativity unfolding, she wrote "Magic Places: An Adults' Guide to Young Children's Creativity".
In 2004, 2006, 2013 & 2014 Pennie attended Summer Schools at the Emmi Pikler Institute in Budapest, Hungary. There her eyes were opened to what respect really looks like with infants, toddlers and young children. Wanting to share the information that so inspired her, she wrote "Dance With Me in the Heart: An Adults' Guide to Great Infant-Parent Partnerships".

Pennie has been facilitating workshops for parents and teachers, and parent classes and retreats throughout New Zealand. She is an absolutely lovely lady, truly inspirational. Get a copy of one of her books and find out more.